Recently,  the state of Michigan department of Agriculture and Rural Development identified the Canine Parvovirus as the origin of a major problem. There was an outbreak of parvovirus in one animal shelter after another in Ostego County. Reportedly,  approximately 30 dogs contracted the virus despite testing negative for Parvovirus!

Kim Dodd is the director of the Michigan State University Veterinary Diagnostic Laboratory. She explained this strange occurrence.  Most likely, the diagnostic parvo tests provided by shelters and  clinics  were not as sensitive as those tests performed by a formal lab.
The above explanation is the most probable cause for the discrepancies in the test results, causing some dogs having the parvovirus to actually test as negative.
Canine parvovirus is most commonly spread via fecal matter. It is a highly contagious and extremely severe disease. Dogs are at high risk of contacting Parvo, especially those dogs residing in close quarters with one another.
The major symptoms of Parvo include:
tiredness,
loss of appetite,
and diarrhea.
Parvovirus Is Not a New Problem
Nora Wineland is a state veterinarian and said that not only she but other veterinarians as well have had a great deal of experience with Canine Parvovirus. Most dogs receive a vaccination against parvovirus as part of their "puppy shots". Those dogs not given a "parvo shot" are at risk contracting the parvovirus.
Most reputable breeders vaccinate their puppies before they allow them to go to a new home. However, if that is not the case, veterinarians encourage dog owners to vaccinate their dogs against parvovirus and to keep all their routine shots current. Boosters against Parvovirus are very important if you want to keep your dog protected against the highly contagious disease.
How Is The Canine Parvovirus Passed On?
The canine parvovirus is extremely contagious and any unvaccinated dog needs only to come into contact with the virus itself. It is possible for this particular virus to be passed on without being near another dog with it. There are a multitude of ways for the virus to be passed to another dog.
Some of these are:
Carried on a shoe
Contacted via bedding
Fecal contaminated soil
Floor or rug that been exposed to the virus
Graphic attributed to Canineparvovirus.org.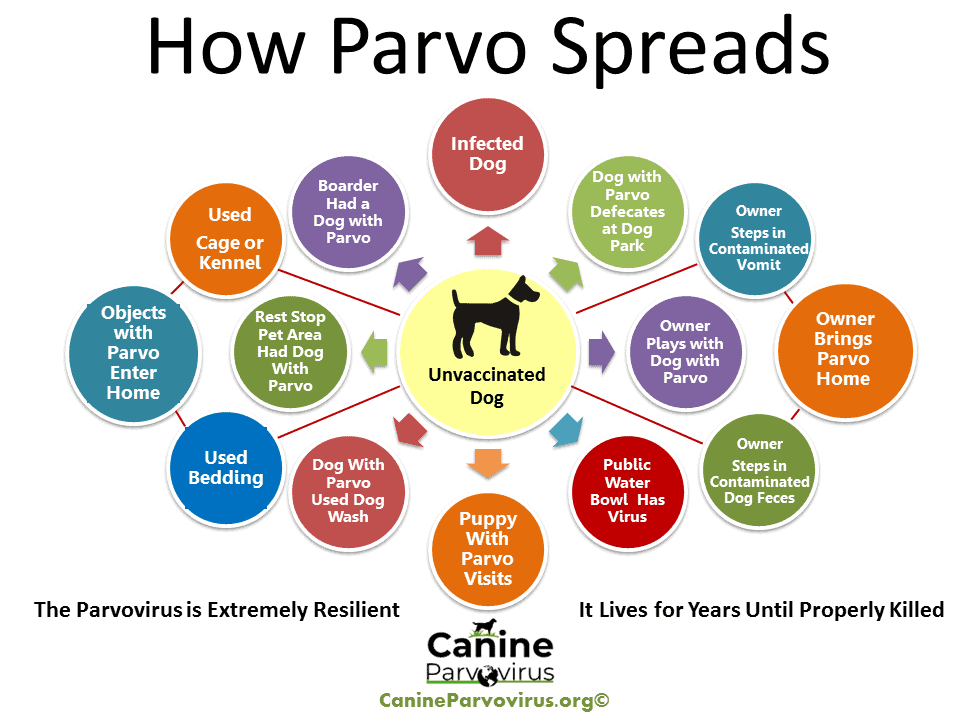 Some veterinary medical treatment is very experience. This article may be of  help to those of you who need financial assistance to get your dog the help he or she needs. https://happymutt.org/can-you-afford-to-own-a-dog/