Should dogs receive a Purple Heart? President Trump first just spoke publicly about his high regard for Conan. This military K-9 tracked Abu Bakr al-Baghdadi to his cowardly, self-inflicted death in an underground tunnel.

This K-9 hero had already received earlier accolades and awards. However, President Trump wanted to present a Purple Heart to Conan. Some people found fault with this idea.
You likely recall that Conan was injured in the military raid that took down the ISIS leader in Syria. President Trump thought that Conan deserved more recognition than he was permitted to receive.
According to an inside source, our president had a very strong desire to honor Conan with what was considered to be a prohibited award.
What Did Others Think About President Trump Awarding Conan With A Purple Heart?
President Trump was not the only one who thought that this military K-9 deserved to be awarded a Purple Heart.  After all, Conan had approximately 50 missions under his collar even before he was wounded.
Quite a number of veterans think Conan deserved this award as well. Further, many of these veterans have earned a Purple Heart themselves. When asked, "should dogs receive a Purple Heart?", they quickly said, "Yes".
Michael Bollinger, a 26-year-old former Army Ranger, shared his thoughts with the New York Post. Bollinger clearly thought that Conan deserved a Purple Heart. He stated that the military K-9s are with the soldiers "every step of the way."
30-year-old Sergeant Kit Sawyer is a former dog handler for the Army's 75th Ranger regiment. He was reportedly appalled that Conan was not immediately awarded the Purple Heart without question.
What Award Was Conan Given By President Trump
According to TMZ, US Special Operations created a special and un-named award for the Conan. This award was created especially for Conan in place of a Purple Heart. Medals of Honor can only be awarded to humans according to the Pentagon.  He also received a certificate.
Unfortunately, Conan's regular handler was not allowed to accompany him to the award ceremony at the White House. He is still on active duty and operational security concerns would not permit him to attend.
Who Said No When Asked, "Should Dogs Receive A Purple Heart"?
According to the New York Post, a Department of Defense spokesperson said, "military working dogs are not eligible for the Purple Heart." My Google search for such a law did not reveal any such law being passed by Congress.
However, the military ignored the bravery and sacrifice of K-9 service dogs. Despite the plea of many veterans to the contrary, they instated a rule barring dogs from receiving the Purple Heart.
Apparently , the Pentagon is holding firm against giving dogs the same medals as are given to humans. When retired Lt. Col Daniel Gade heard this, he offered his own Purple Heart for the beloved canine,
There is a record of a lengthy discussion about this topic being held. But, there are also reports of a few military K-9s receiving a Purple Heart medal.
What Is The History of The U.S. Army K-9 Corps?
On March 13, 1942, the U.S. Army K-9 Corps was officially begun. Soon, its most well-known K-9 hero had been awarded a Purple Heart.
This was done in spite of a great deal of controversy. His name was PFC Chips. But, he was not the first military dog to receive a medal for their courage.
Dogs have played a role in warfare around the globe for centuries. However, in the U.S. military K-9s primarily served as messengers and mascots until the Great World War.
Who Was The First Dog To Be Awarded The Purple Heart?
During World War I, the role of military K-9s significantly evolved. One of these military dogs was named Stubby. He was recognized across the nation as a war hero. Stubby was one of the most decorated heroes of World War I.
Stubby survived gas attacks, fighting in the Argonne, and captured a German Iron Cross. No wonder Stubby became a hero and so many stories were told about him.
He ran down into the trenches barking to alert the soldiers to gas. Stubby picked out the English speaking voices and went straight to them. He often led them to safety as well.
Upon completion of the war, Stubby met many celebrities, including three U.S. Presidents. Further, Gen. Blackjack Pershing presented him with a medal.
Stubby crossed the Rainbow Bridge in 1926. Then, his body was respectfully preserved and given to the Smithsonian for posterity.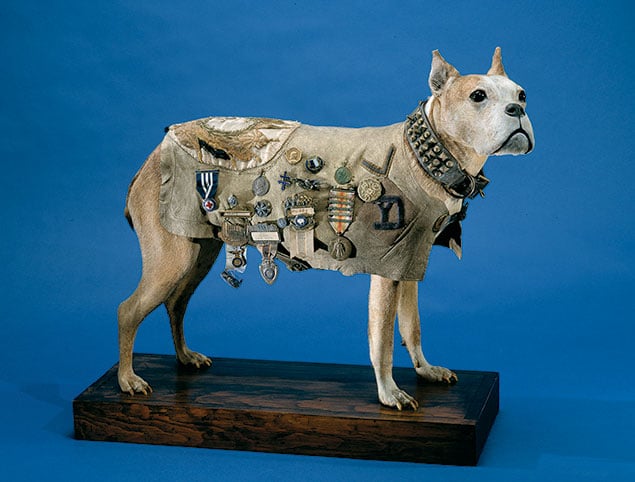 The Beginning of the K-9 Corp Was With Modest Expectations
It was not until about World War II that there were a significant number of canines enlisted as volunteers. These dogs formed the first military K-9 Corps.
In reality, the owners of these enlisted K-9s merely loaned their dogs to the war effort. They thought that their dogs would perform tasks like carrying messages, sentry duty, patrol duty, and mine detection.
Who Did They Select for The Corp and What Did They Expect of Them?
The first K-9 Corps members completed 8 to 12 weeks of basic training before deployment. Of the approximately 18,000 dogs accepted into boot camp, only 10,000 made it to active duty.
Only seven breeds were selected at that time: Shepherds, Belgian Sheep Dogs, Siberian huskies, Malamutes, Eskimo dogs, Doberman Pinschers, and farm Collies. These were the breeds the trainers thought would be able to complete the rigorous training.
The Army website informs us that the original intention was to keep these dogs closer to home. They were under the Quartermaster Corps' command. Initially, the K-9s were to protect the home front military facilities, such as supply depots, etc..
When Did They Broaden Their Use and Expectations?
Finally, in 1943 and 1944, 15 canine platoons were shipped to either Asia or Europe. These dogs performed heroically, whether on patrol or on the front lines in battle.
At least when it comes to publicity, the top dog of the K-9 Corps was a Shepherd-Collie-Husky mix named Chips. He was originally from Pleasantville, New York, and volunteered by Edward J. Wren.
Chips in the field.                                                                                 Chips with his owner,                                                                                                                          Edward J. Wren
The top dog of the K-9 Corps was a Shepherd-Collie-Husky mix named Chips
Chips was a member of the canine platoon that shipped out in 1943. First, he served as a guard dog in Casablanca at the Roosevelt-Churchill conference.
Next, Chips served in battle. During the invasion of Sicily, Chips tore away from his handler and attacked a machine-gun nest.
Although wounded during this attack, Chips still flushed out four enemy soldiers, facilitating their capture. Later that day, he also assisted in the capture of 10 more of the enemy.
Chips received a Silver Star, a Distinguished Service Cross, and a Purple Heart in November of 1943. Unfortunately, a commander who had also been awarded a Purple Heart became upset about Chips receiving the same medal.
The War Department Giveth and It Taketh Away???
This disgruntled commander complained to both the War Department and President Franklin Roosevelt. These complaints led to a Congressional discussion on the topic.
It was believed that Chips was stripped of both his Silver Star and his Purple Heart medals. This action was taken because he was not human.
However, I have yet to find documentation of Congress passing a law dealing with this issue.  And, at least one account tells a different tale.
The February 1944 issue of Time magazine quoted Major General James A. Ulio. He said that Chips would be allowed to keep his well-earned medals. However, in the future, no more K-9s would receive them.
Contradicting Reports
Wire service stories from January 1944 and February 1944 confirmed that Chips did receive all three of the medals. However, the stories also stated that he received them at two separate times.
The AP report released on January 14, 1944, stated that Chips had been awarded the Distinguished Service Cross. It also said that, on November 19, 1943, he was awarded the Silver Star and the Purple Heart.
The wire service reported on February 16, 1944 that the complaining commander received a conciliatory letter from the military. He was notified that Chips was allowed to keep the Silver Star medal. He was also told that no K-9s would be awarded medals in the future.
Chips Remained in the National Spotlight
Chips was not through receiving national attention. This time, it was not in a positive manner. Sometime later in the war, he was congratulated for his heroic efforts in battle by General Dwight Eisenhower.
Unfortunately, just as the future president leaned down to pet the dog, Chips bit him. It is only fair to mention that Chips was trained to react in this manner if confronted by any person unknown to him.
He was only following his training. Maybe Chips was an overachiever.
Even Heroes Cross The Rainbow Bridge Eventually
Sadly, Chips passed on in 1945, seven months after being discharged from his service. His obituary revealed the reason his family donated Chips to the military. It was because he bit the Pleasantville trash collector.
Awarding military K-9s with medals has since been discontinued or at least minimized. Some people consider awarding war medals to dogs to be disrespectful to the human soldiers who earned them.
The mother of Chips' owner told reporters that someone "made a fuss" about the dog's medal. She also said that Chips would probably prefer a pound of hamburger over a medal, according to the Washington Post.
An Unofficial Purple Heart Recipient in 2014
In 2014, a story surfaced about a second dog to receive a Purple Heart. This time, however, it was unofficial. The medal was given by a generous recipient who had been awarded two ribbons.
The militaryK-9, Lucca, served with the Marines for six years. Sadly, Lucca lost a leg when wounded in Afghanistan.
Until Now, the Most Recent Military K-9 Purple Heart Recipient
This touching photo of Rocky, an injured military dog with his Purple Heart, went viral in 2015. Specialist Andrew Brown, his handler, told the story to ABC News.
Brown and Rocky left Fort Hood for Afghanistan after having been together for two years. After two months, they were assigned the job of searching through enemy compounds.
While doing so, they were both severely injured. Both Rocky and Brown had been hit by shrapnel flying when an IED (improvised explosive device) detonated.
After they were injured, they were flown to Kandahar, Afghanistan, where they both were awarded Purple Hearts. Brown was interviewed by ABC News while at Walter Reed hospital in Washington, D.C. A Google search will produce a video of this report.
Specialist Andrew Brown and his military K-9 partner, Rocky, are believed to have fully recovered from their injuries obtained while serving in Afghanistan. In his interview, Brown was quick to give credit where it was due, to Rocky.
Brown further said that he was just the guy holding the leash. The handler takes Rocky to an area and lets him do "his thing". If Rocky responds, Brown translates the response. He knows the dog's patterns of behavior and the way he works.
At the time of the interview, they were both preparing for additional surgical repair. Luckily, both Brown and his fellow soldier, Rocky were expected to make full recoveries. Until then, Brown was going to hold on to Rocky's Purple Heart for him.
It was tough for them to be separated by so many miles. Rocky was still in Germany undergoing medical therapy, and Brown was in D.C. for his medical care. As close as they had been for the past several years, it was hard not being there for one another.
After being so close for so long, it was hard to be apart for medical care.
Brown was eager to be reunited with his partner as soon as possible. However, he expressed his confidence that Rocky had the same high spirits that he, himself, had.
He reminded us that dogs are very resilient. Brown's love and admiration for Rocky were evident. I bet that love and respect was a two-way street between them.
Soldiers, human and K-9 reunited after healing from war wounds
Do You Think That President Trump Should Have Presented A Purple Heart to Conan?
President Trump is not afraid to take on a challenge. He appears to enjoy breaching protocol when he thinks it appropriate to do so. I doubt our president allows fear of someone complaining about his actions to stop him.
This would be especially true when the topic was about a member of our military. President Trump considers it an honor to recognize any military hero. This is especially true when the hero has earned the right to receive a Purple Heart.
Regardless of how strongly he felt about awarding the Purple Heart to Conan, President Trump did not challenge the Pentagon's ruling. He did invite Conan to visit the White House where he was awarded the allowed medal and a plaque for his heroic service.
What Can You Do To Support Our K-9 Heroes?
The military K-9 community needs ongoing support. Donations to either the Warrior Dog Foundation or Mission K9, would be greatly appreciated. These organizations work to ensure that our K-9 veterans who have left military service live a healthy and enjoyable life
Should Dogs Receive A Purple Heart?
My question to you is this. Do you think that our military K-9 heroes should be awarded a Purple Heart under the same conditions as our human soldiers?
Or, Do you believe that it is disrespectful of the human soldiers for the Military K-9 heroes to be awarded a Purple Heart regardless of the conditions?
Please let me know your thoughts on this topic in the comment box below.
Should Dogs Receive A Purple Heart, Yes or No